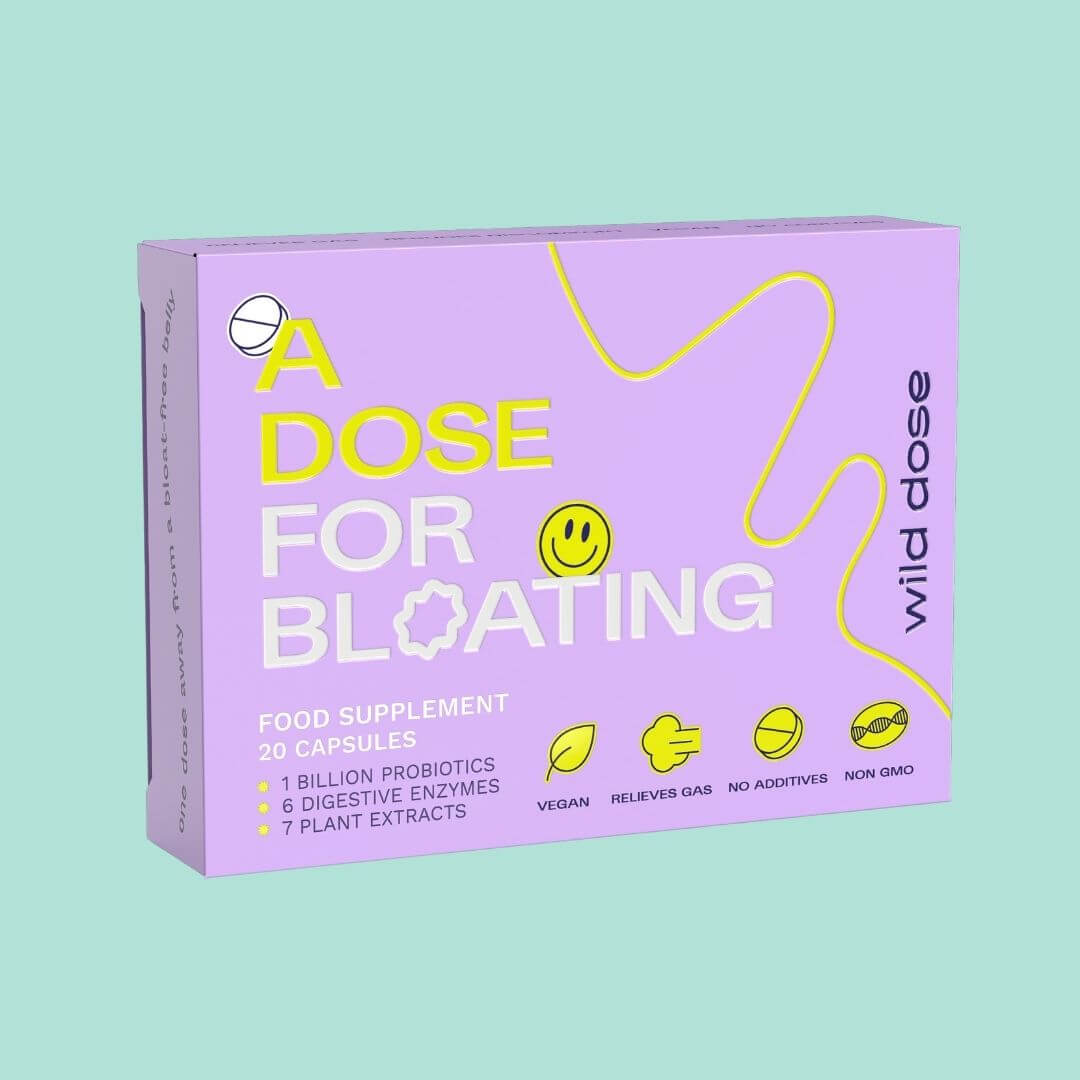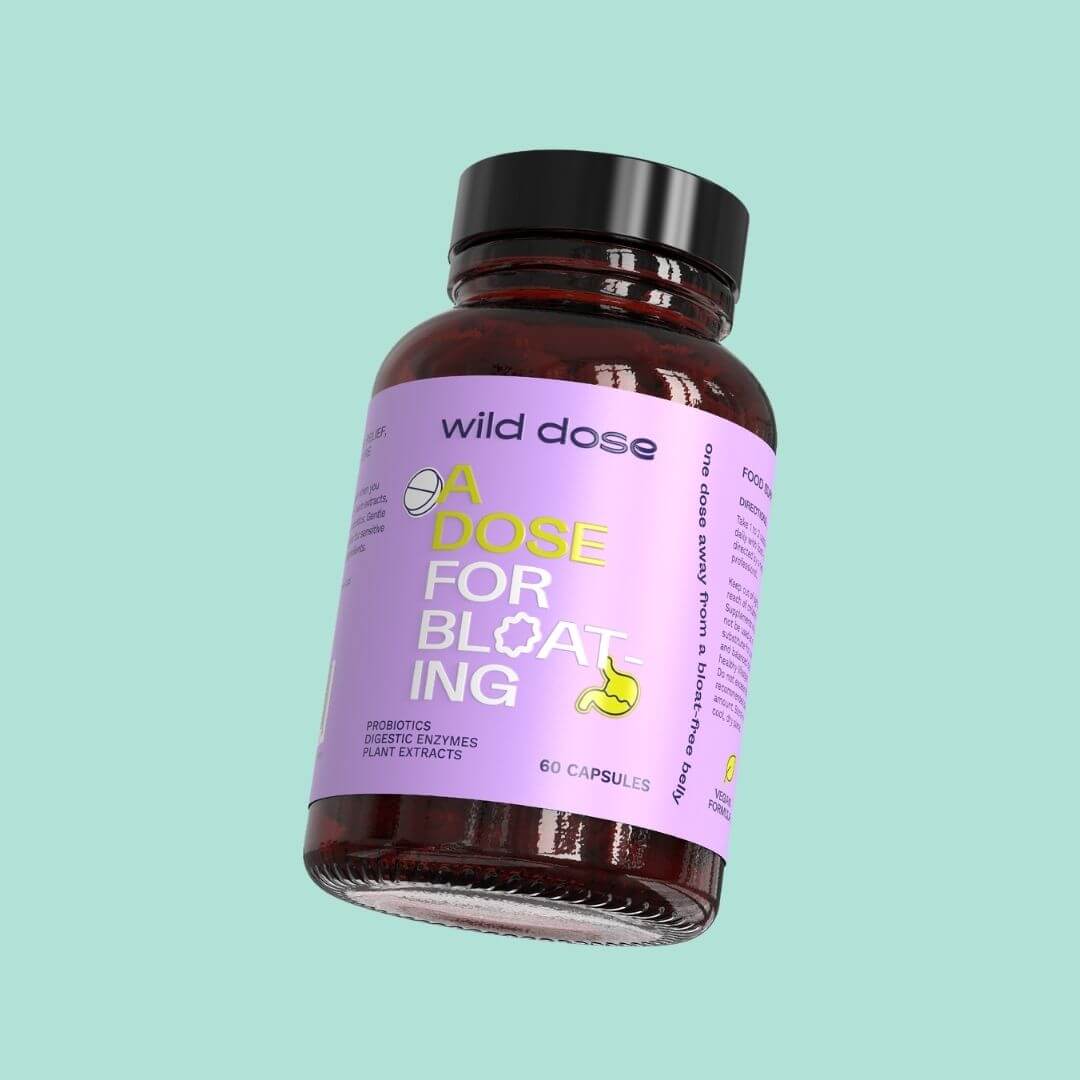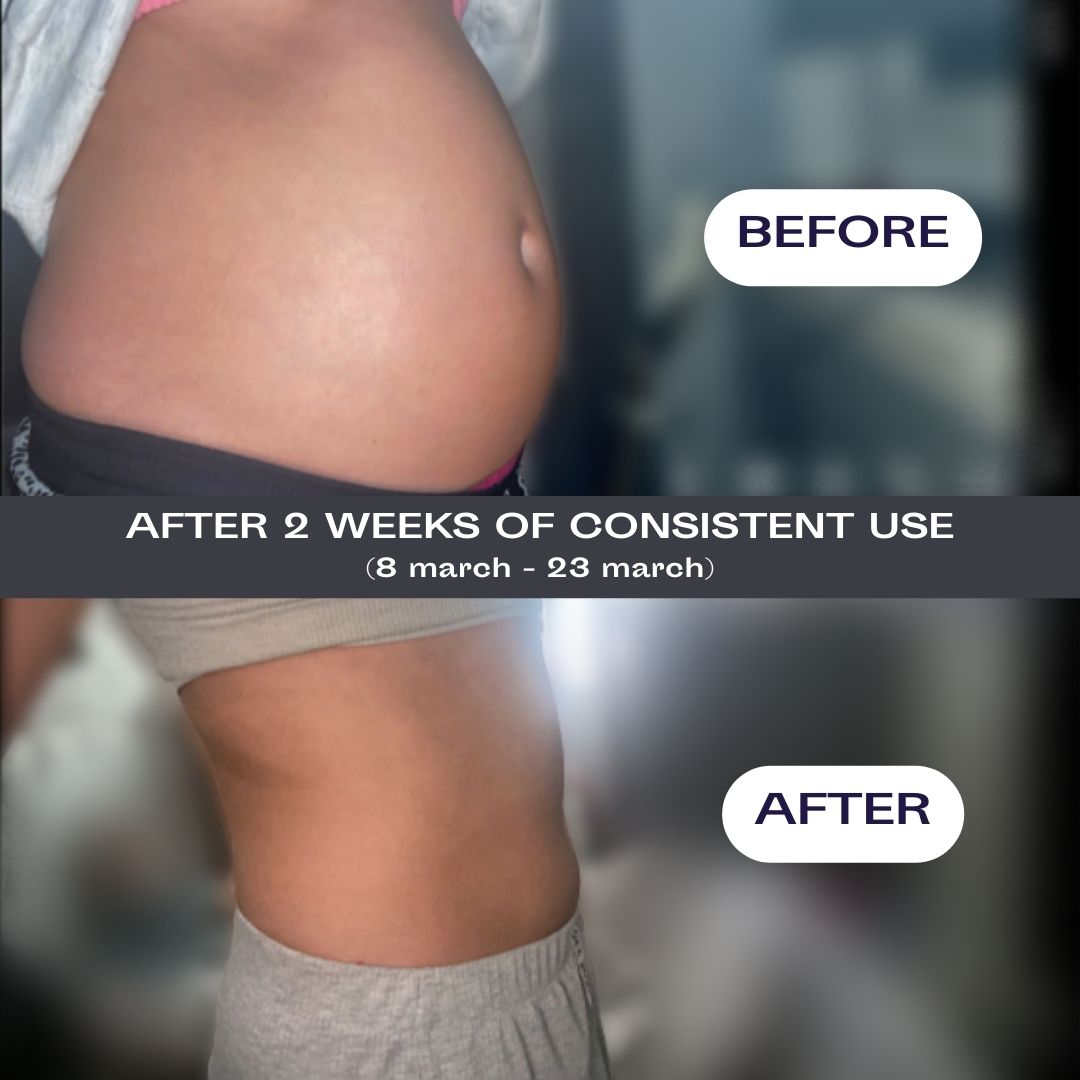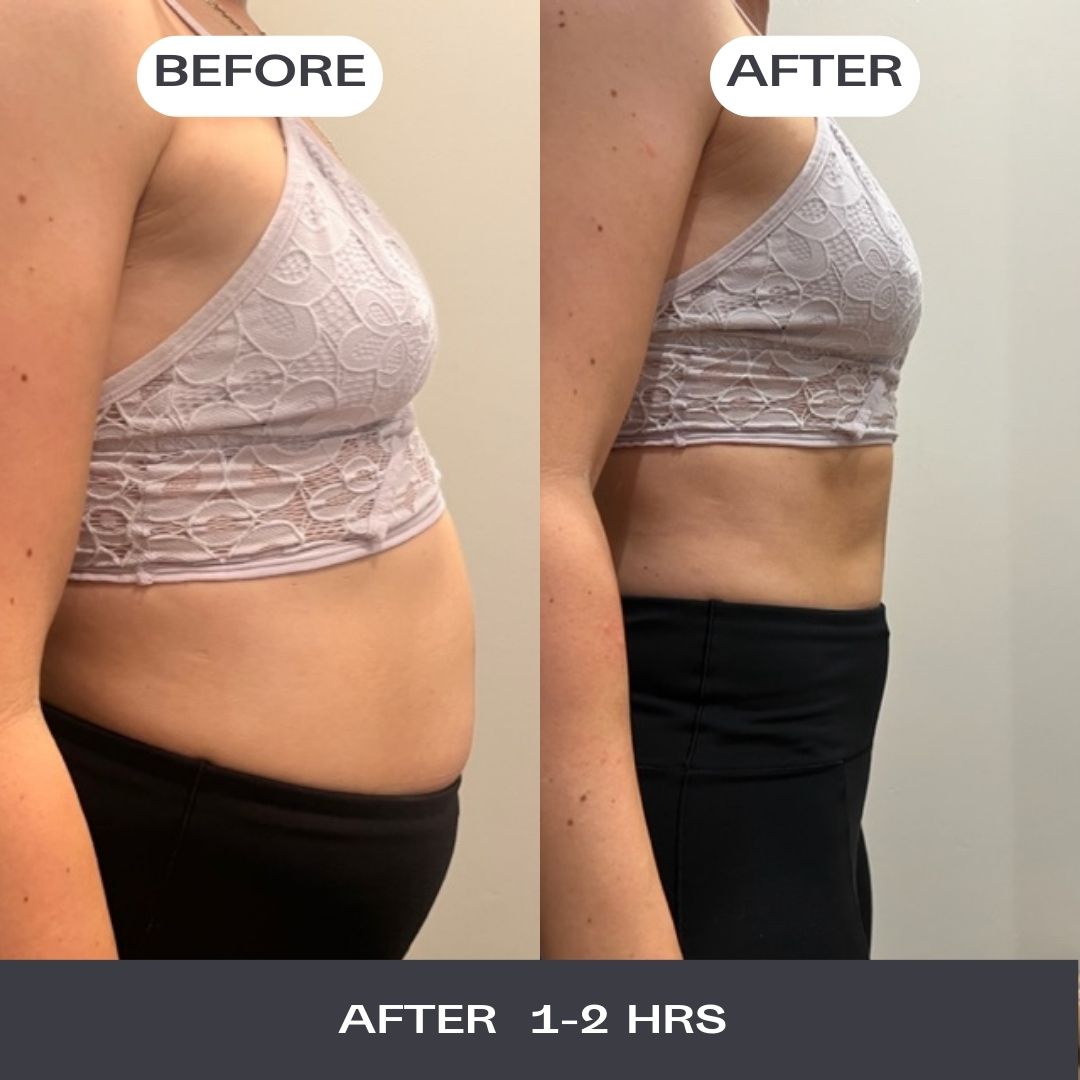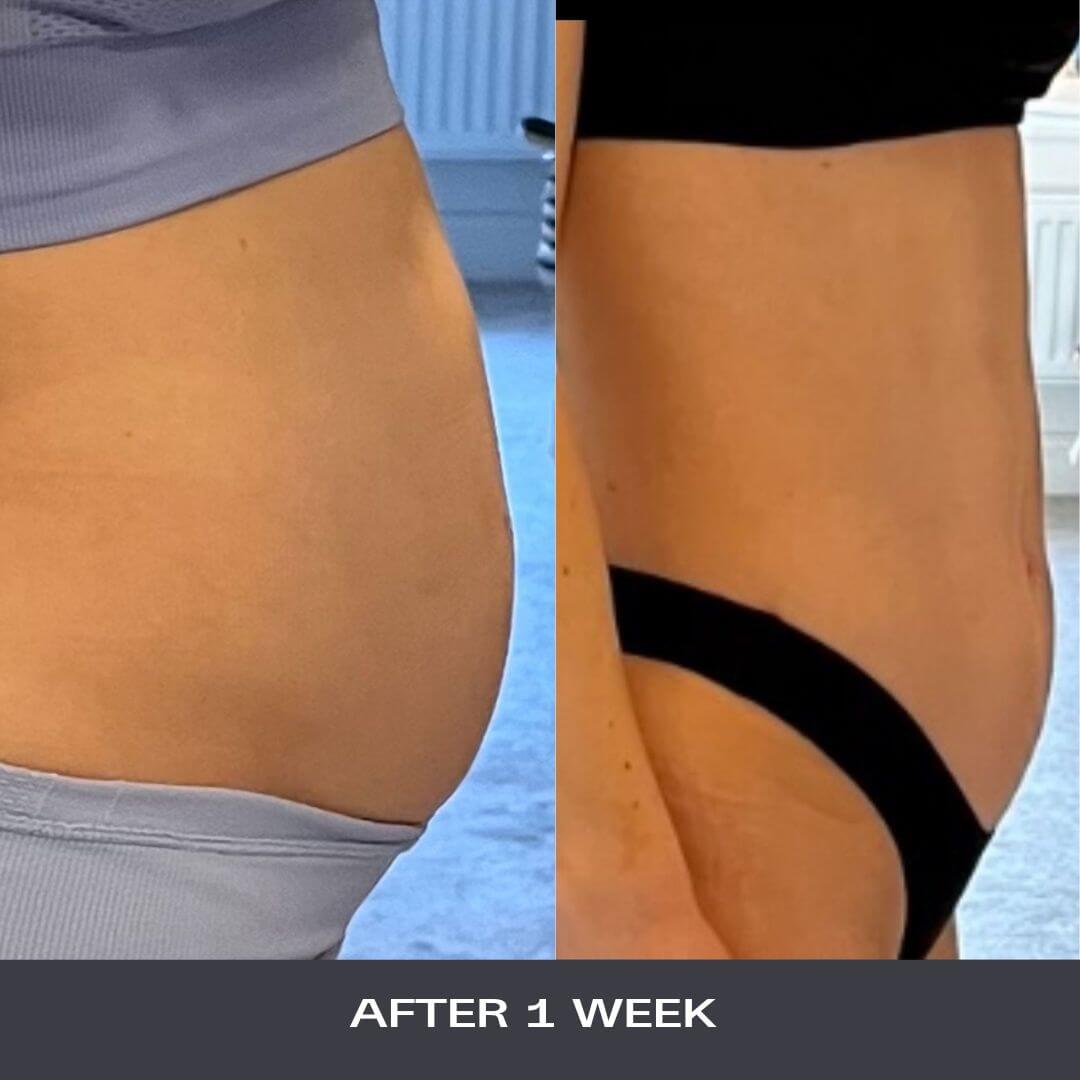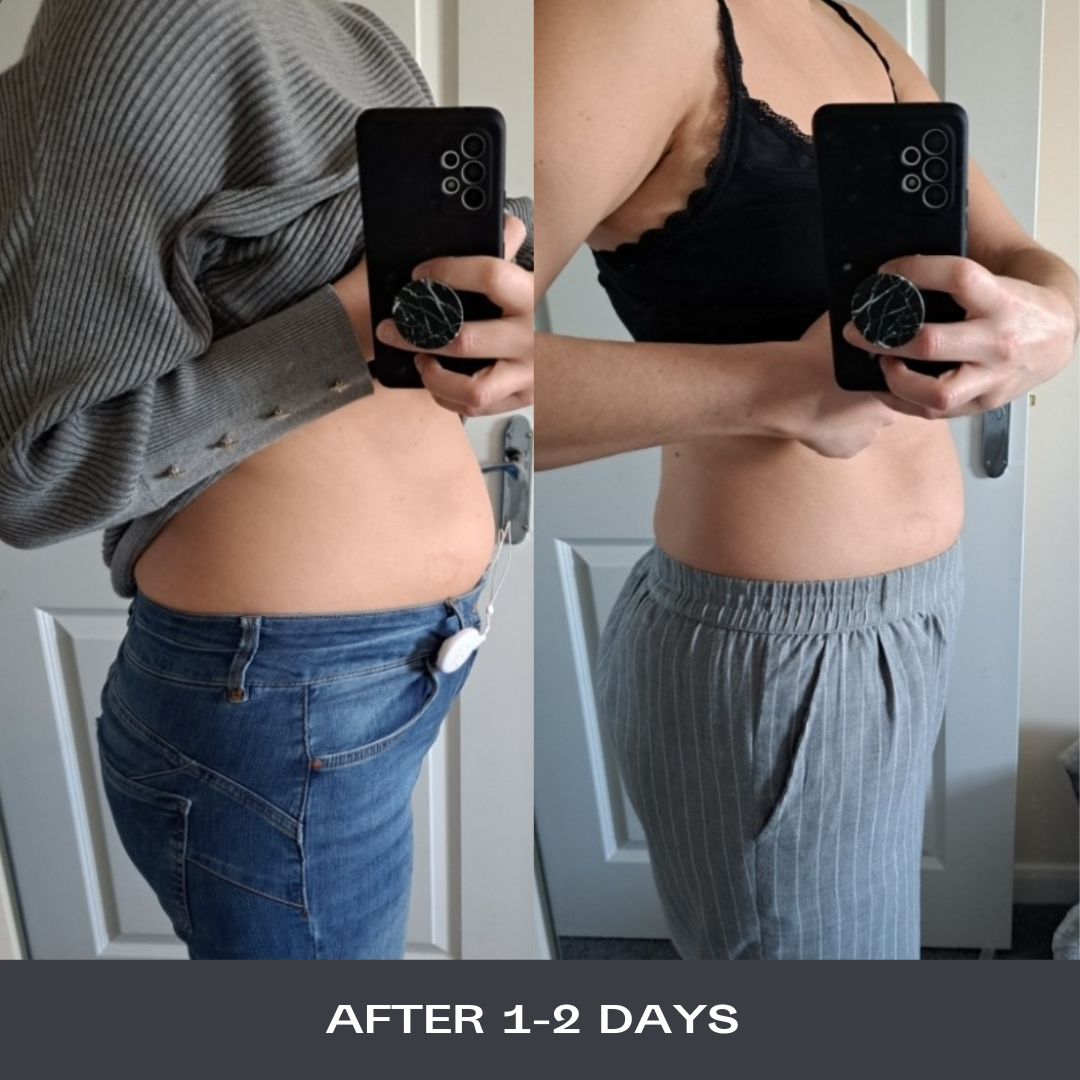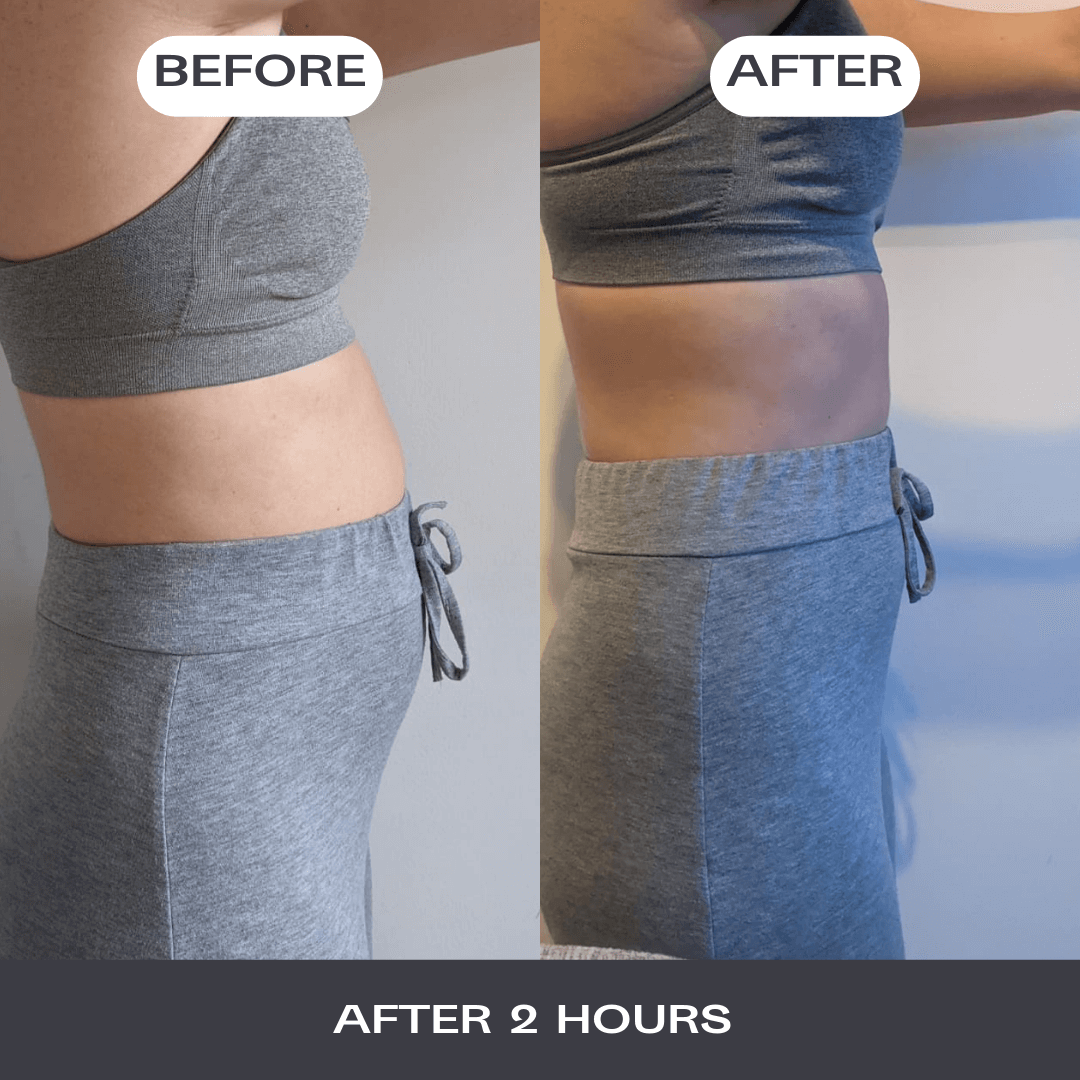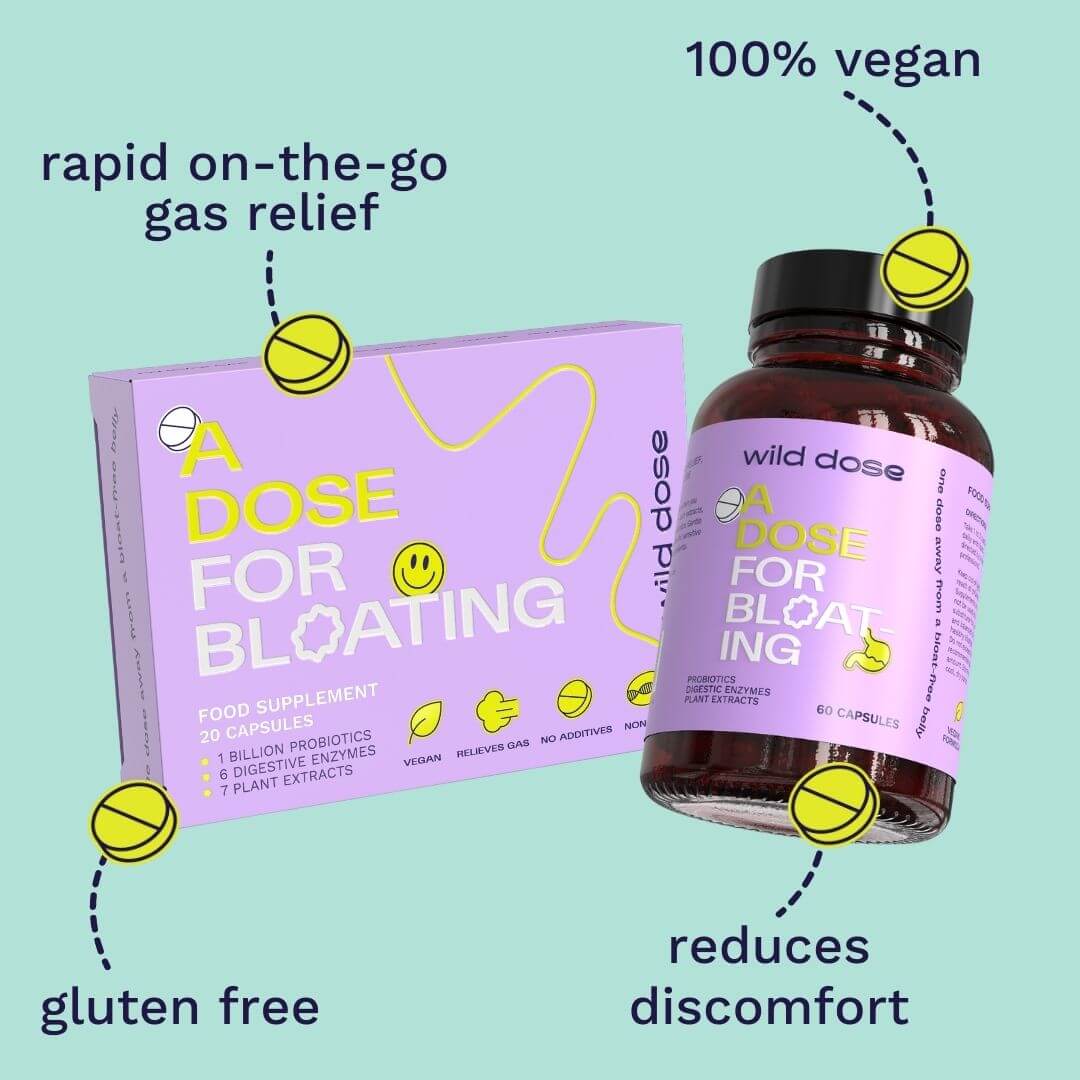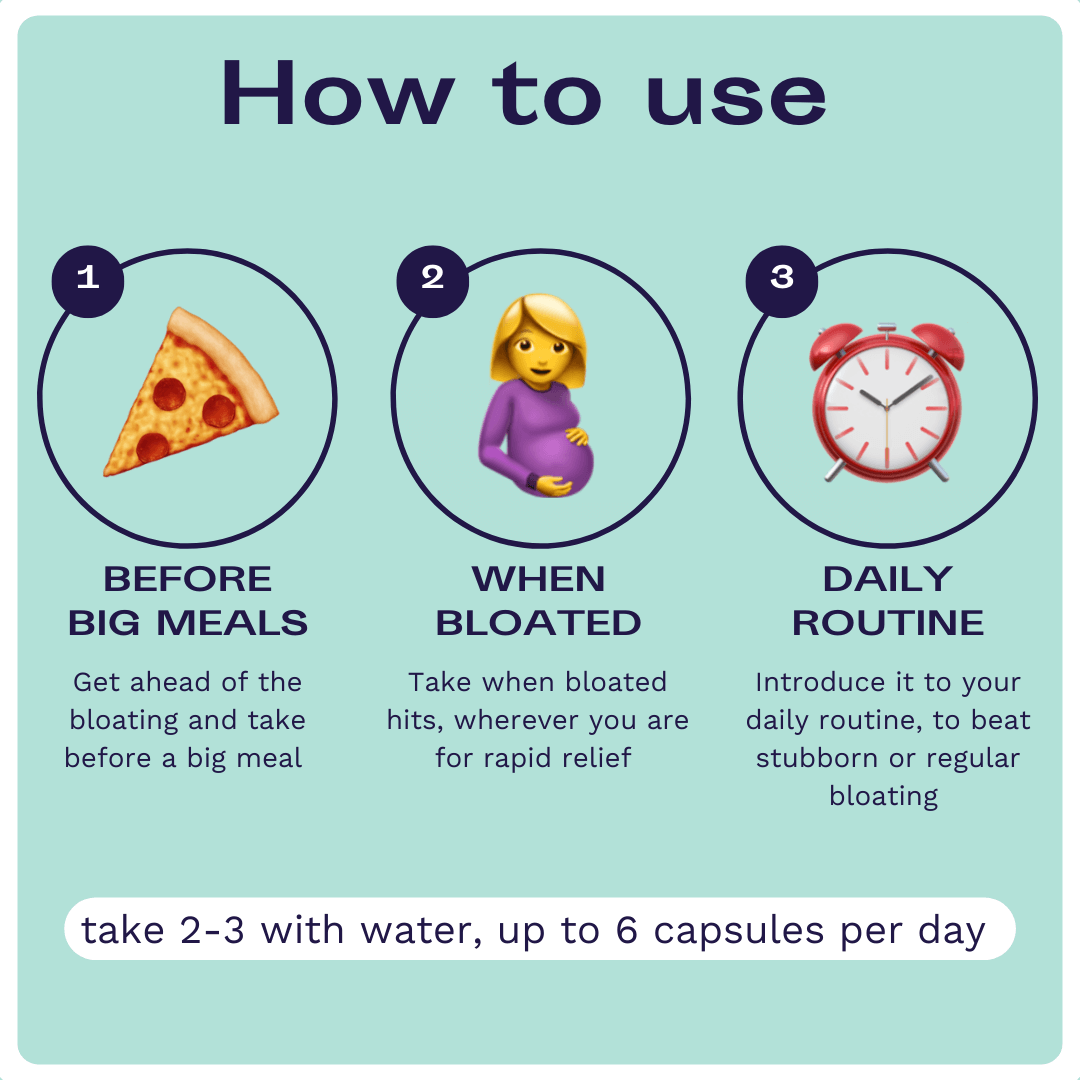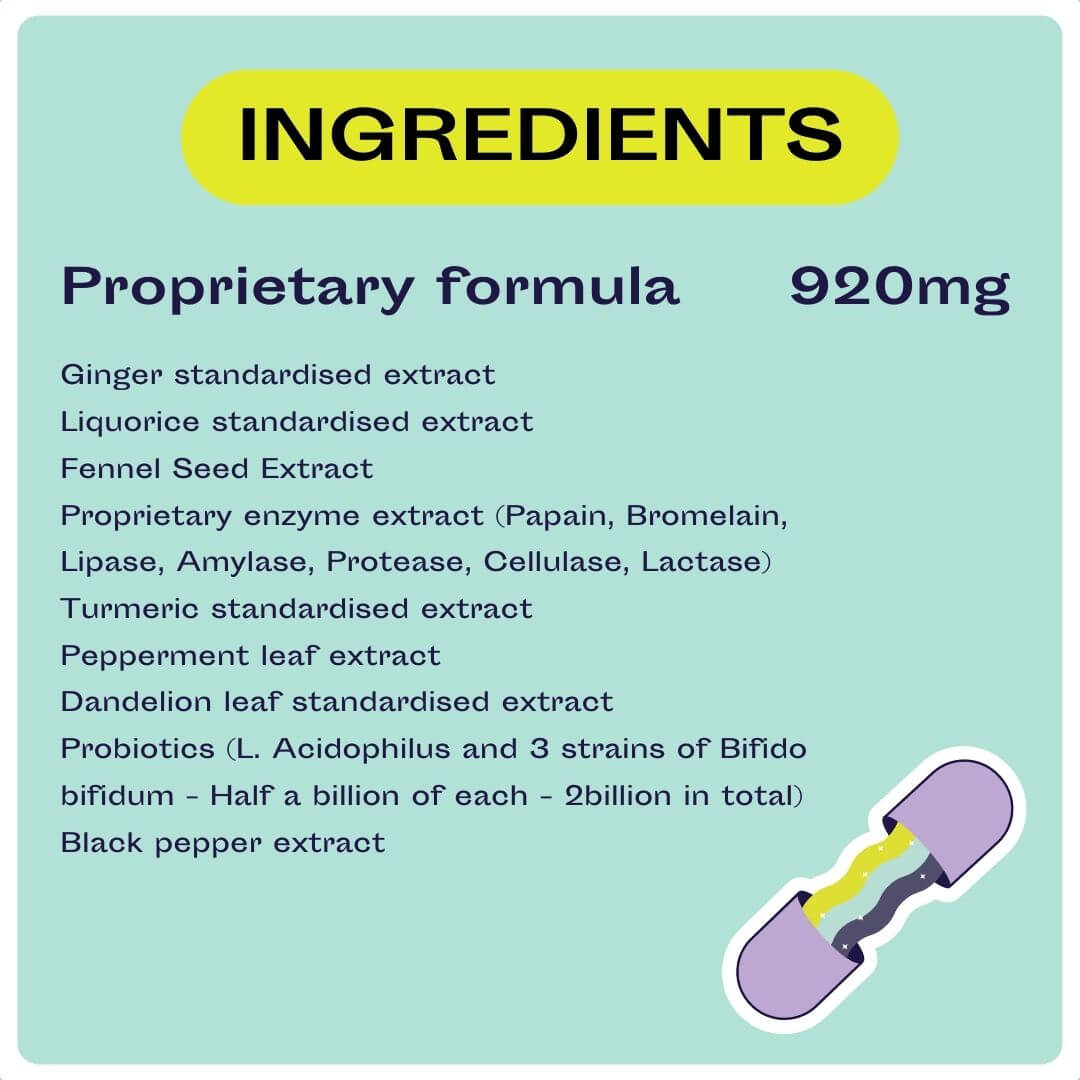 A Dose For Bloating
Formulated to beat bloating quicker and provide gas relief - just take two before eating or when bloated. It should also be used daily to beat stubborn bloating!
No more uncomfortable meals, no more lying on the floor with your knees to your chest. Bloating has met it's match in the form of some tiny little pills.
Take before a meal to prevent bloating or after to ease it - or take daily for stubborn bloating, with 8 out of 10 customers finding bloat relief when taken for 3-4weeks✌️
Packed with 2 Billion Probiotics, 7 Digestive Enzymes and 7 Plant Extracts
Size:
Blister Pack (20 capsules)
Natural relief for natural issues.
Our natural remedy works rapidly to eliminate bloating - quicker ⚡️
Our unique blend of digestive enzymes, plants, herbs and probiotics work together to soothe your gut, reduce gas production and helps eliminate bloated tummies. With clinically proven probiotics that are IBS and sensitive tum friendly.
A unique and proprietary blend to help with rapid bloating and gas relief:
Ginger Extract, Liquorice extract, Fennel Seed Extract, Proprietary Enzyme Complex (Papain, Bromelain, Lipase, Amylase, Protease, Cellulase, Lactase), Turmeric extract (95% Curcuminoids), Peppermint Leaf extract, Dandelion root extract, Probiotic blend (L.Acidophilus and 3 strains of Bifido bifidum), Black Pepper extract
Take 2-3 as needed with water (up to 6 daily) or daily for 7-10 days at least for more stubborn bloating
Wild Dose can be taken daily, before a meal, after one, whenever you're bloated or need quick gas relief. Take before a meal to prevent bloating or after to help ease it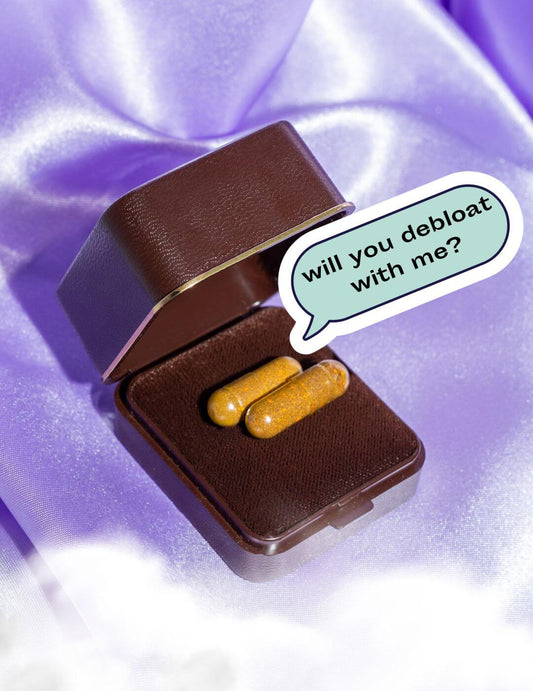 Powerful bloat-fighting ingredients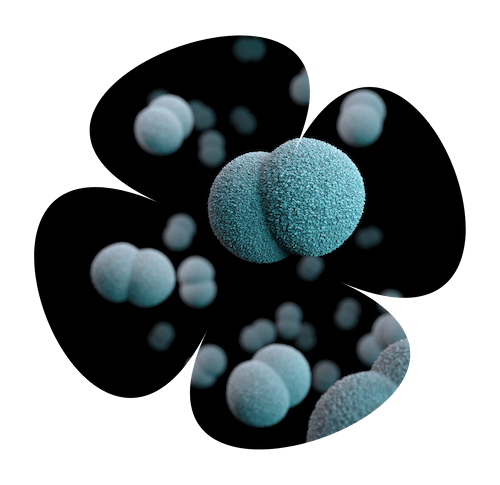 7 Digestive Enzymes
Our unique complex of digestive enzymes (shhhh its a secret), help immediately breakdown undigested food in the gut that cause bloating 💨
✨Now includes LACTASE for Dairy digestion!✨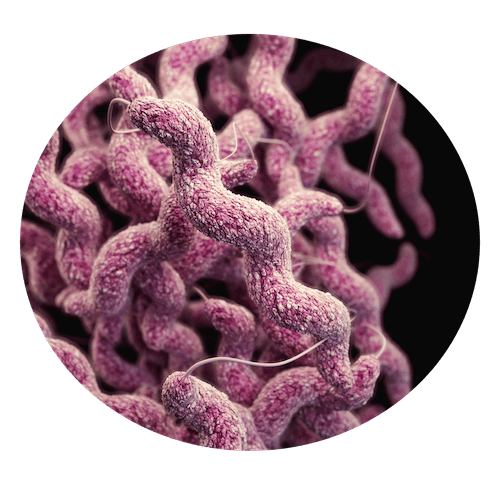 2 Billion Probiotics
Boasting 3 strains of probiotics and 1 Billion of them - clinically proven to be IBS and sensitive tum friendly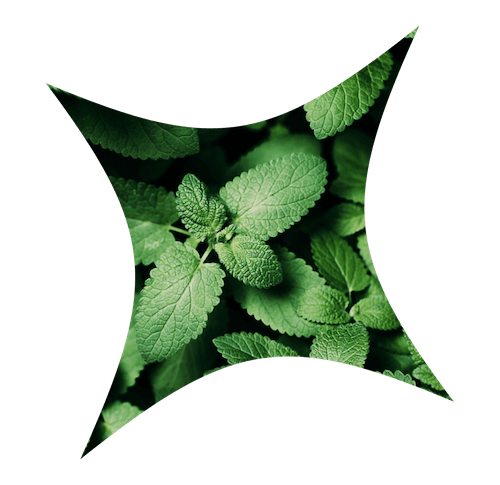 7 Plant Extracts
Liquorice ginger, peppermint and more. Our 7 herbal remedies have been used for years reduce inflammation and discomfort in the gut 🌱
Vegan             Relieves gas             Reduces discomfort             Made in the UK             Fast Acting             NO additives             Rapid Relief             Non-Gmo            Natural Remedies           IBS Friendly           
What to Expect
⚡️ Less discomfort after 30-60min when taken with a meal with gentle gas relief - maybe some wind 💨
✅ After a week or so of daily use, less gassy bloating episodes and less visible bloating
✌️After a month, the formula should help battle against water retention and less stubborn bloating
🙏CHANGED MY LIFE🙏             💊IT'S A MAGIC PILL💊             💜LOVE LOVE LOVE THIS💜            👾GAME CHANGER👾           🔍WISH I FOUND THIS SOONER🔍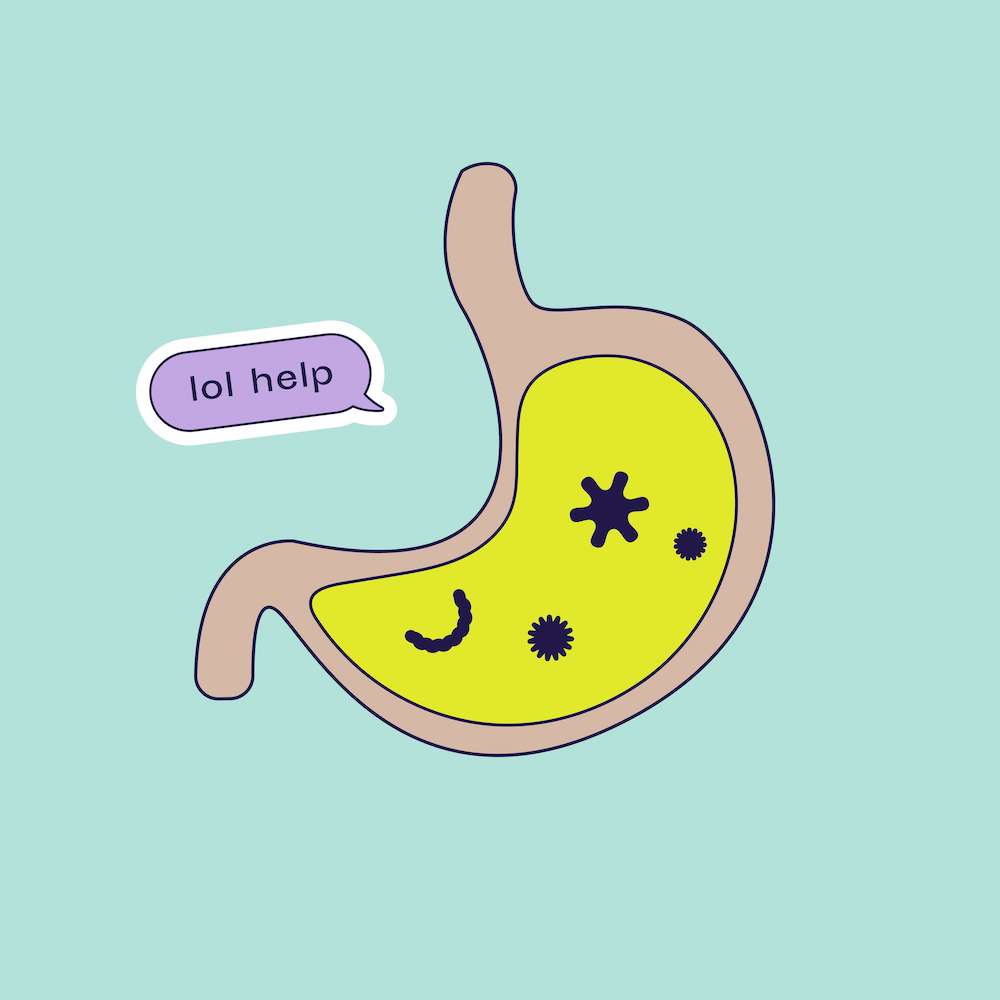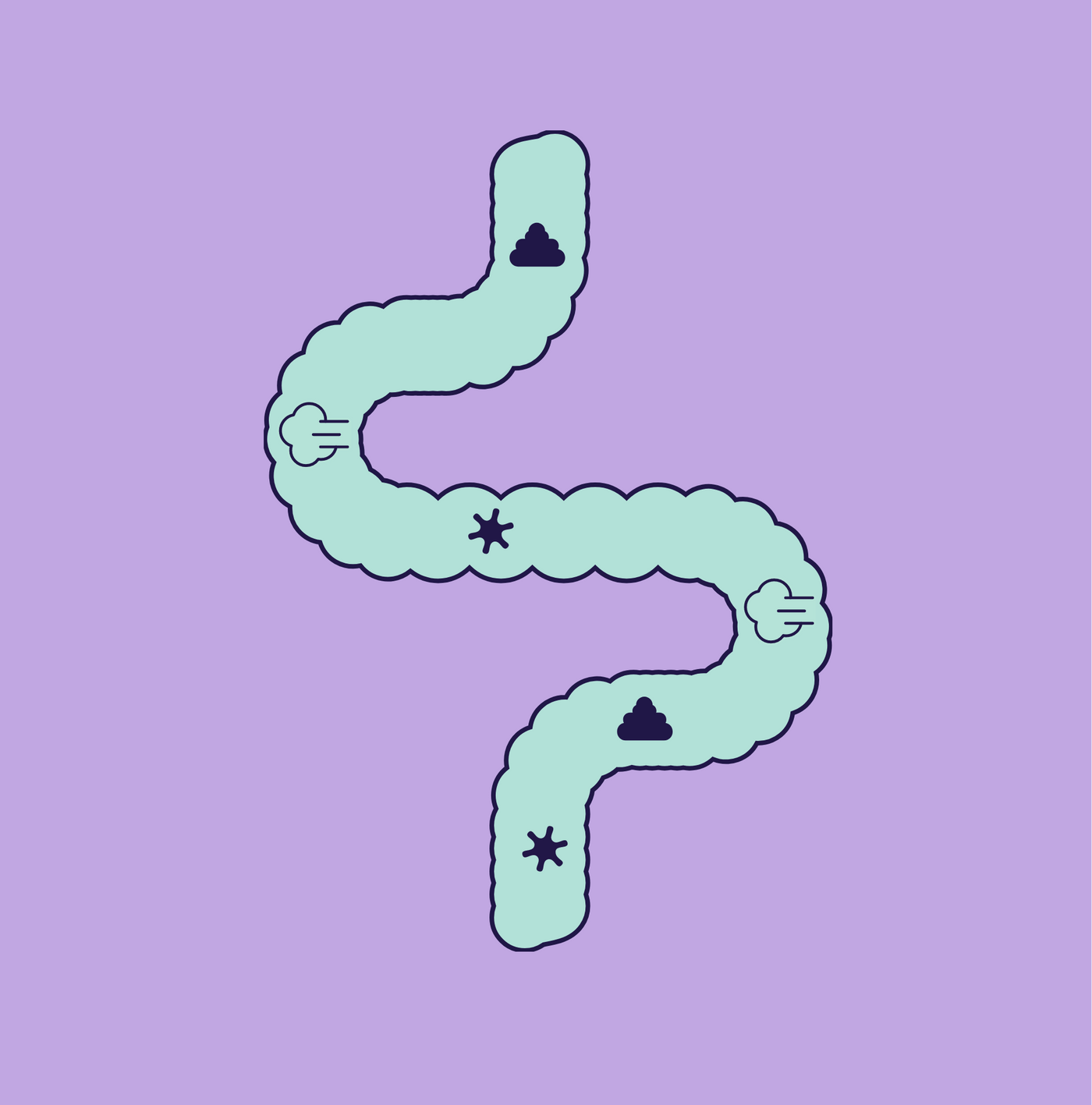 But what even is bloating?
Bloating is where your belly feels tight, full or even painful, as if you've eaten a very large meal (with no room left for more!). Your belly may appear larger or more swollen, and being bloated can sometimes feel uncomfortable and painful.
You might experience more burping (soz!) or trapped gas.
What causes bloating?
Bloating happens when the gastrointestinal tract (GI tract) fills with gas or air, causing pressure on the belly. It can be from something as simple as what you eat, undigested food, gassy drinks, to other reasons such as menstruation or swallowing too much air when you chew gum. All in all, bloating isn't much fun, and we certainly don't have to suffer through it!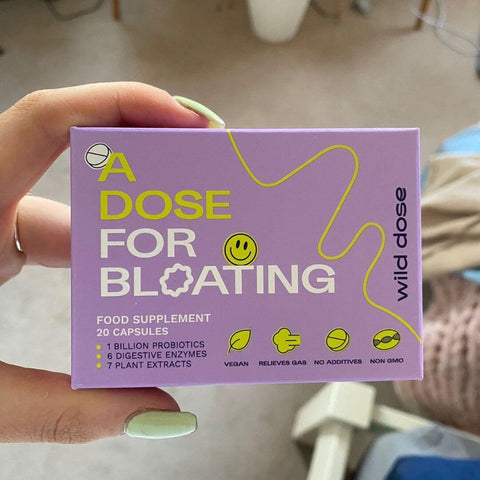 Breakthrough!
Finally found a product that works!! I had to take six capsules for several days for it to make a difference. This has paid off now only have to take when needed. Would highly recommend
Yvona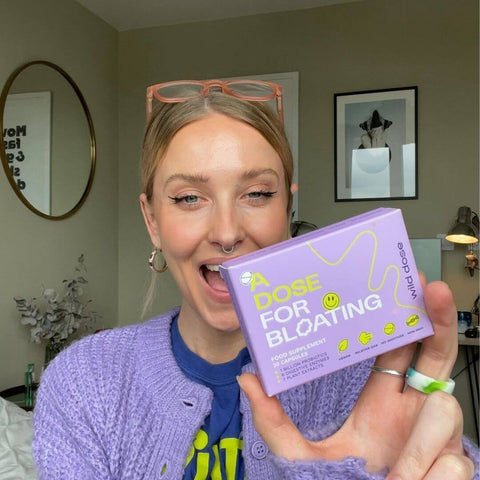 A Life Saver
I suffer with IBS and bloat from anything! I take this before having a large filling meal or before eating dairy, which is a trigger for me, and wow it's brilliant.
Lucy
My daily go-to
I've suffered with bloating for YEARS. Since I've been using this stuff daily I finally have a flat stomach again! Feels amazing to feel so light! Can't recommend it enough.
Lorraine
Total 5 star reviews: 3.3k
Total 4 star reviews: 408
Total 3 star reviews: 84
Total 2 star reviews: 34
Total 1 star reviews: 65
Customer-uploaded media carousel. Press left and right arrows to navigate. Press space or enter to open more details.
Slide 1 selected
Great so far

It's been great only on them a few days and no issues.

So much more comfortable!

Within a couple of days I noticed I was so much more comfortable. Amazing 🤩

Annabel S.

Verified Buyer

12 hours ago

No complaints!

I've not got any complaints! Not been feeling bloated (or at least super bloated) when I've been taking these!

So far so good

Have only just started taking them but so far they seem to be working

Tracey

I feel better for taking this tablets I suffer with celiac disease but I don't know if they work on this problem please could u reply back to me Tracey
Reviews Loaded
Reviews Added
We're Saying F U to Big Pharma
For too long big pharmaceutical companies have put profits before people & our planet. That's why we're working towards being the first UK company to use 100% biodegradable blister packs (big Pharma companies could do this now–but they choose not to).

You can currently recycle our blister packs through Superdrug stores,
follow the link below to find your nearest recycling point!
Our aim, with your support is to get the volumes we need to introduce biodegradable blister packs and makes the big companies follow our lead. We are a small business with big ambitions.